Online Poems
Table of Contents

A Tribute to Bill

Young and full of life
You left one morning thinking you would come back
A dreadful accident caused by a housewife
Now your body rests under a brass plaque
Your kindness and humor
Will always be remembered
May God keep you in Heaven where there is to ponder
The Angels are blessed to have you as a member
One day you will meet again
With your loved ones that were left on Earth
Only time will heal the pain
Let God bless us with spiritual rebirth
Please guide us and free us from distress
Let Heaven's Angels bring us peace
For peace and tranquility bring great success
Cease and put an end to the breach of peace

Ana Monnar

A Zero to the Left

Distinctive wise problem-solver
Resolving harms with expertise
Predicaments, bad dilemmas
Bumpy troubles like cottage cheese
A zero to the left is next
Person that does not help himself
or others – very sad to see
Statue full of dust on a shelf
Move your body and help yourself
Stand on your very own two feet
Each person needs to hold their own
Winning victories not defeat
Always business before pleasure
Working hard is what we all do
Success for all that work for it
Except for those who never grew
Is endless fear what you wish for?
Grow up quickly before too late
Freedom is awesome here on Earth
Or how will you pick up your date

Ana Monnar

Beauty of Haiti

Silk and ribbons clouding the sky
Coastline and beaches – pure black sand
Walking, skipping, splash-splash snorkeling
Good, honest people – giving hand
Flawless beaches, nature walks too
Mountains and forests, trees and shrubs
Rugged valleys, crystal clear bays
Gifts of wisdom from the cherubs
Visitors welcomed to Haiti
Echoes of Africa airing
Panoramic view of realm
Haitian Saints singing and working
Beauty of Haiti is dancing
With the rainbow's pastel colors
Different shades to please the Heavens
Family, good friends and neighbors
Rich – poor; "Where is the middle class? "
Flesh clings tenaciously to mom
Creole speaking, dining delight
Tourist and rich folks under palm
Midnight blue sky, shimmering lights
Stars shining brightly upon moon
Happiness, sadness and sorrow
Hoping to see their loved ones soon
Poor human beings – young and old
Stomach growling, eyes tell it all
Sincerity, dignity, poise
Beauty of Haiti is for all

Ana Monnar

Because a Strong Woman, I Am

Indeed I still struggle
Swimming upstream with might
Never giving up on what I care for
Because a strong woman, I am

You might use your jagged tongue
To tear me down for what I do
You are so cruel and judgmental
Is it my strength that bothers you?

I wept from your harsh words
That took me by surprise
In front of other guests
Embarrassed I sure was

Instead of wheeling and dealing,
Writing poems and stories, too
You think I should stop it all
Does my independence bother you?

I work full time at school and in my home
Devoting ample time to my kids every day
Cheering at their sports events, celebrations,
Plus, all the pain and glory that presents each day

Glance at the mirror
Take a good look at your soul
If what you see is perfection
Then gently stroke your sharp tongue

I am a strong woman
I will continue to work hard
My accomplishments and failures
Are what make me who I am

If I ever do it differently
It will be because I will change
For God, my children, and me
Not because I am stepped and crushed

I am who I am, not just anyone to fit in
I refuse to fit the mold and take the easy route
Tenacity and endurance is what I hold
Because a strong woman, I am

Ana Monnar

Farewell to Cuba

Standing in a fishbowl
Armed forces used control
Rummaged our suitcases – and stole
Religious statue stomped and crushed
Bracelets, watches and rings, too
Cheekbones flushed with red hue
Standing powerless with no clue
Puzzled eyes filled with soreness

Could not keep the tears away
Motherland; we cannot stay
Their hearts are made of clay
Heartless souls without a conscious
Pushed us out to the unknown
With no food and with no throne
Only wretchedness and woe to moan
Sadly humming with discomfort

I left my great-aunts weeping
Soldiers with rifles creeping
Only hope and faith keeping
To follow the unknown
Boarded a Pan Am airplane
My parents could not explain
The heartache, sorrow, misery, and pain
With deep profound dark shadows

We left Cuba to reach freedom
Reaching exile with just wisdom
Bearing in mind palm trees at random
Glared the brightness from the sunshine
As we were led to our new home
There was no place to roam
Through spiny leaves and Sea Holm
Just rest – rest from the daunting journey

Through the melancholy and gloom
Different language from the womb
Six people lived in an abode amid one room
Not knowing what stood ahead
From being rich and now so poor
Only God knew what was ahead for sure
For us to speculate – was premature
Endless days and stormy nights ahead

Nevertheless, we had love, and health
This meant more than any wealth
No longer living amongst minds stricken by filth
Modest was the hummingbird
That sang so sweet each morning
Living in freedom – no more warning
Celebrating life, not in mourning
In a great country that embraced us all

Ana Monnar

Heaven

Under a tent next to my son
Above hovered dense dark clouds
An opening in the center
As if to heaven it entered
What a miracle to witness
The colossal green grassy field
Varsity girls running the course
Unaware of heaven's stairway
From just miles above the grassland
To Alexander's amazement
Which he pointed just before me
It was truly astonishing
Paradise – way beyond belief
Was the opening for someone?
For a special very good soul
There was just a slight drizzle
Not a thunder or lightning sound
Only peace and sense of glory
From the place we stood on the ground

Ana Monnar

Our Love Is a Jig-saw Puzzle

Our love is a jig-saw puzzle
Complicated in many ways
Built with patience, and devotion
Passion bursting awake with blaze

Attaching each piece in its place
Endurance – persistence prevails
As each piece of the puzzle waits
Vibrant colors shine with details

Each piece is quite a mystery
Brainteaser to utter the least
With each problem that arises
Masses crashes it like a beast

Crack of dawn brings daylight's shadows
Followed by dreams and smiles to grow
Thoughts, imaginings, ideas
Concealing the pain in the snow

Running with the jig-saw puzzle
Loving every single moment
Each timepiece obtains its lessons
With Dilemma being absent

Catch-22 – tight spot; not a problem
Just be gentle and try again
As each piece of love fits snuggly
Solid foundation to sustain

When the last piece of the puzzle
Arrives with Patience to place it
Cracking a full-size happy smile
Knowing puzzled love is legit

Ana Monnar

Rugged Mountain

I am a rugged mountain
All kinds of weather
Pass by me
The glowing sun
Brightened the horizon
While the rain and snow
Washed away the shadows
That life's voyage threw at me
I stand erect no matter what
For I am tough
I am hopeful that
Better days will come my way

Once the spring showers rain love
Cupid strikes infinite couples
Always hitting the right mark
Awakening from the anchored peak
Allowing me to walk and breathe again
Fireworks illuminate the sky
Standing in the lake of hope
Take a listen as the bell of opportunity
Loudly plays, "Ding-dong-ding! "
The wind is no longer crying
At last, Heaven is smiling at peace

Ana Monnar

The Law of the Funnel

Have you ever met a person?
Who mostly says, "Me, me, me."
That person thinks the world revolves around them
It's time to open his or her eyes to see
You might go out of your way to do favors
About 100 favors it might be
But on the 101st you just can't do it
And upset that person will be
That person believes that the wide part of the
funnel is always meant for them
Then the thin part of the funnel,
The rest of the world can get
All of a sudden a rude awakening
Finally the realization that it just doesn't work that way
It's better to give sparingly
Than to be on the receiving end
People who are unselfish
Are happier with themselves
During their lifetime they have been giving
From the heart it comes naturally
When they truly need help
God will send Angels their way
Then be grateful and appreciative
Be humble and remember what to say
Thank you God for the Angels that you sent
each and everyday

Ana Monnar

Will You Love Me Enough?

Will you love me enough? – Today
And tomorrow – when the sun meets
The sea in every horizon
Twirling opportunity's sweets

Will you love me enough? When the
Moon meets infinite brilliant stars
When my hair turns gray from worries
And we go through a dozen cars

Time flying by – ever so sweet
Talking – kissing amorously
Wishing more time available
For further plans done cleverly

Talking daily on the cell phone
Smiling and glowing happily
Merry, blissful, in high spirits
Precious moments come easily

Will you love me enough? When the
Green valley meets rugged mountain
And our shadows dance excitedly
Then dash and splash in the fountain

Will you love me enough? If fate
Comes knocking – it is meant to be
Destiny is calling surely
Providence prevails – can you see

Will you love me enough – will I?
We will, love each other enough

Ana Monnar


Bodies of Water

A lake, the sea, a river, an ocean
Are all bodies of water enhancing the Earth
Whether fresh water, or salty
Water is wet
In some regions warm
While in others so cold
Icebergs or seaweeds
Corals or pearls
Turquoise, green, gray
Crystal, sapphire, the colors
Sailboats go with the wind
Breezing through
Yachts speed up with their motors
Under the sun enjoying the day
At night the moon and the stars
Washing away the sorrows

Ana Monnar

Is There Enough Room

Is there enough room in my heart
Dive in and try to remember
Take a glance and see who might part
Fall in love until December

Summer, fall, winter, and through spring
Born to love, have faith, and survive
To hear Blue Jays flutter and sing
Smelling jasmine to feel alive

Fear I see, in my humble eyes
Unknown don't wish for the present
Pure thoughts dismissed, forever dies
Lessen heart tougher than cement

Love for my daughter and two sons
Without doubt I love the three tons

Ana Monnar


Compassion

Compassion does not mean pity
Compassion goes a long way
You might be the one offering a kind word or
gesture today
While tomorrow someone else might show
you the way

Ana Monnar

http://www.poemhunter.com/ana-monnar/

http://www.authorsden.com/anamonnar


Gold and Glitter by Ana Monnar Editorial Reviews Product Description
Gold and Glitter is a poetry book for young adults. The book offers a variety of different forms of poems written by award winning teacher, Ana Monnar. A glossary of poetic terms is provided to use as a simple guide. Websites to surf are also made available to aid the learners. E.S.E. students from Gifted, L.D., E.H. and other exceptionalities, as well as regular education and E.S.O.L. young adults are encouraged to improve reading and writing achievement. Gold and Glitter is a tool for advantaged and disadvantaged learners. All students need to meet goals and expectations. Academic standards are relevant to human beings regardless of wealth, poverty, ethnicity or creed.


Poetry from Planet Earth by Ana Monnar The book provides simple guidelines for writing poems. It also offers helpful websites. The poems throughout the book are educational.

Couplets
Acrostics
Haikus
School to Work
Natural Disasters
Thank God
Land The Universe
Character Education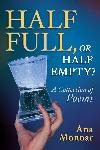 Half Full, or Half Empty? : A Collection of Poems
Written by award winning teacher and author, Ana Monnar The topics expressed in the poems were such as faith, hope, determination, responsibility, kindness, compassion, Alzheimer's Disease, nature, famous inventors, unity, plus much more. Rich in vocabulary, this book will inspire most audiences. You will find a variety! Narrative Poems Couplets Haikus Alliterations Limericks

Uplifting Poetry for Young Adults and Children's Books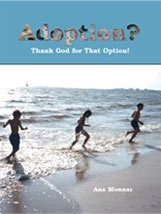 Adoption? Thank God for That Option! is a children's story. The foreword is appropriate for adults. The characters are very real and the story is non-fiction. It has humor, repetition and rhyme, plus ends with a poem titled, The Gift. The book is fully illustrated with color and black and white photographs. It shows how adoptive children are no different from biological children when it comes to love and to care for. They grow, eat, sleep, breathe and play sports. They have good days and bad, just like everybody else. Most important of all, they are loved in good times and bad. Click here to view an excerpt from the book. Adoption?Thank God for That Option!


by Ana Monnar
ISBN13: 978-1-4010-8339-7 (Picture Book)
ISBN: 1-4010-8339-0 (Picture Book)
ISBN13: 978-1-4134-4143-7 (Picture Book - Hardcover)
ISBN: 1-4134-4143-2 (Picture Book - Hardcover)
Pages: 32
Subject: JUVENILE NONFICTION / Family / Adoption
Subject: JUVENILE NONFICTION / General
Book Format: Portrait 8.5 x 11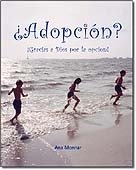 Adopcion? Gracias a Dios Por LA Opcion by Ana Monnar This is the story about three children that are very much loved through good times and bad. Features adoption poem also. This is the Spanish version for Adopcion? Gracias a Dios Por LA Opcion by Ana Monnar. Read more! about the book about the author sample excerpts or Table of Contents catalogue info